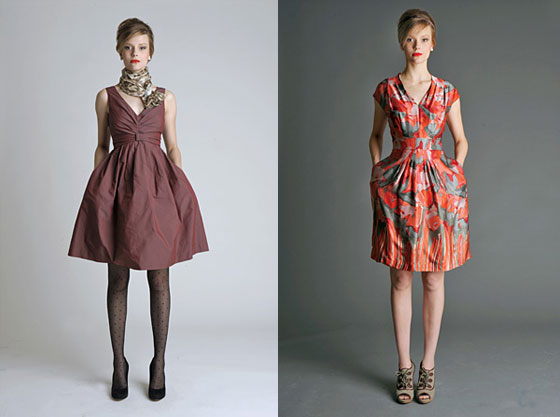 I have long been a fan, and a faithful client, of Banana Republic, especially for nuanced yet classic office attire, and I have watched now epidemically popular
Mad Men
since its debut pilot; needless to say, as an avid antiquer and vintage jewelry, clutch, and cocktail ware collector, as well as an inquisitive, analytical romantic interested in gender and sexual politics and the socioeconomic implications therein, the show quickly became a fascinating habit, and the prospect of an entire collection through an affordable retail chain was much anticipated. Now, having previewed the pieces, I feel uninspired and find the collection, though meticulous, rather lackluster. As I continue to examine the detailing and structuring of each look, I can find aspects of nostalgia and genius, which I thoroughly enjoy; perhaps my hesitation and disappointment surround the bland postures of the model and the milquetoast expression in her eyes. Though the pieces are, indeed, the highlights, some greater period-influenced extravagance in the styling of the shoot may have further whetted my interest and mounted anticipation.
With both of the dresses pictured above, again, I am fond of the cut and overall structure of the look, genuine to the era without appearing to be a caricature; however, neither the muted mauve nor the coral and gray floral are calling to me. As I well know, coloration in images such as these can be profoundly misleading, so a trip to an actual Banana Republic location may be in order.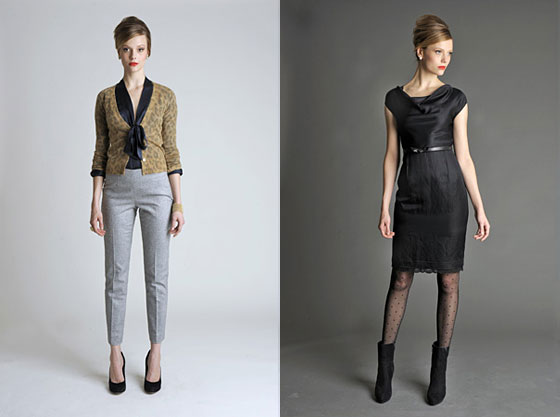 The proportions of slacks and cardigan sleeves in the look to the left are ideal; again, the model is a bore, and I would be interested to see some additional accessorizing, other than the beehive chignon. She wears some type of bracelet, but it is hardly noticeable. The belted leopard trench with the, presumably, almost Jackie Kennedy-Onassis shift-inspired cream dress peeping through is my favorite look; over-sized pearls would be a great pairing. Cascading strands of small pearls is a classic, and has been recently re-introduced to popular fashion consciousness; I never buy accessories from large retailers, due to the mass production, and feel that this piece could be easily mimicked with true vintage pieces, which may afford more flexibility in layering possibilities if they come as single strands.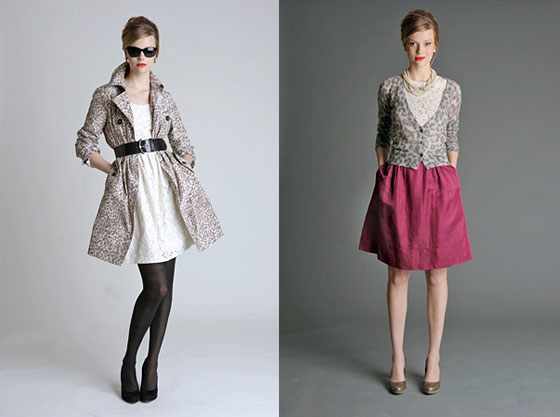 (images taken from New York Magazine, Fashion section)